Massage Therapy Training With Bamboo
Bamboo-fusion massage therapy is the latest and greatest spa treatment to hit the industry in years! It is easy to implement and the massage therapy training can easily be provided at your location to minimize travel for your staff, thus keeping expenses to a minimum.
Massage therapy training classes are readily available across the country specializing in warm bamboo massage. Bamboo-fusion has been featured in top spa magazines and trade publications making massage training for bamboo massage in high demand.
Nathalie Cecilia, originally from Nimes, South France is the original source in the United States for a brand new spa treatment she calls Bamboo-fusion. This trademarked treatment is in high demand by luxury spas and is gaining in popularity. Ms. Cecilia uses bamboo pieces Masaj cut into different shapes and sizes as extensions of her fingers during a massage treatment. She also "warms" the bamboo to allow the bamboo pieces to penetrate and relax the muscles quicker.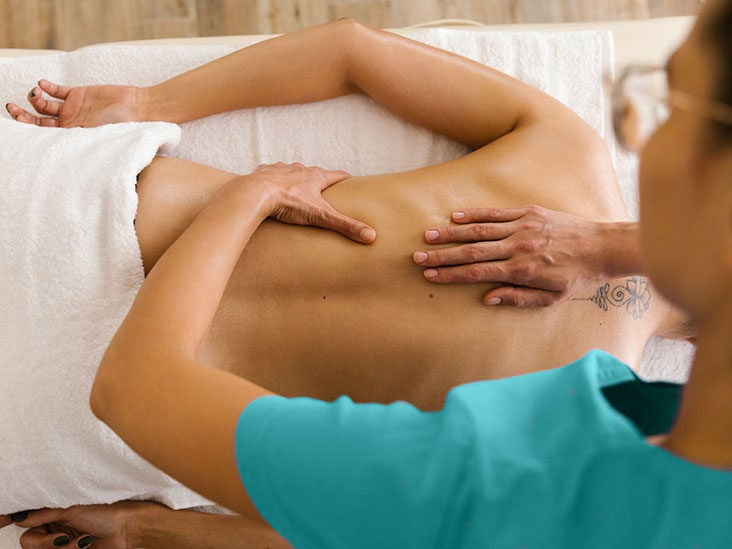 She originally discovered this form of massage during a massage treatment where the client kept requesting "deeper pressure" on his upper trapezius (shoulders). At a little over 5′ and only 100 lbs, Nathalie began to experience pain in her hands within only 2 months of doing traditional massage. As a Thai therapist, Nathalie sometimes did back walking while using bamboo poles that are 6 feet in length for balance. "As I was working on this gentleman who was in a sitting position, my eyes caught the two bamboo poles that I used for balance when back walking. I had the idea to use one of the poles for tapotement on his upper trapezius. So I stood about six feet from him, tapping on his shoulders with this very long stick, and he told me it felt really great!"
Small repetitive movements performed by the massage therapist when doing traditional massage can result in repetitive use injuries such as carpel tunnel. With the Bamboo-fusion massage, the bamboo tools allow the massage therapist to easily address deep pressure requests. Ms. Cecilia explains that she has noticed that after a few bamboo massage treatments, the client's skin can actually become more supple.
In 2004, shortly after becoming a massage therapist, Ms Cecilia first started using bamboo and rattan tools to perform a flowing Swedish type massage. Imagine a skilled therapist using warmed bamboo to dissolve knots and tension throughout your body. These hand crafted tools are custom designed so that even the smallest therapist can give an effective deep tissue massage that is easy on their body, hands and wrists. This ecologically sound and sustainable product is currently made by skilled woodworkers, however when Ms. Cecilia first began bamboo massage, she actually made the pieces herself by hand.
Her bamboo tool sets have evolved over the past few years and are now made with 100% solid bamboo which is pressed into different shapes and sizes to match her Bamboo-fusion massage routine. The new bamboo tool sets, designed for full body massage, hold heat well and are very comfortable for the therapist to use. In addition to making bamboo sets that are commercially available, she also offers massage therapy training to other massage therapists. Her massage training offering for top quality professional massage training is well received by high end spas that need to offer unique treatments to their discriminating client base.
"There is a beautiful quality to the material; both you and the client feel very energized and revitalized, but also more relaxed." Her technique uses massage oil or cream when performing a full body massage on a client. Shorter pieces of bamboo work well for smaller areas such as around the scapula. A 16″ bamboo stick is also used to knead the muscles and do a "criss-cross" technique that stretches the fascia in all directions.
Unlike warm stone massage, the bamboo is easy to heat without the use of a roaster or crock pot. In the heating device she uses, the bamboo stays warm (which of course the clients love), and there is little clean up between sessions. During the Bamboo-fusion massage training classes, we also offer suggestions to incorporate the use of a few hot stones into the treatment for those that desire to mix bamboo and stones.
As therapists and clients continually search for new approaches to massage therapy, bamboo is at the forefront of the industry, offering the most basic solution. The use of a renewable and sustainable resource that connects us to ancient times allows our modern need for deep tissue massage to be addressed. Nathalie is the pioneer of bamboo massage and is a leader in the massage and bodywork industry. Massage therapy training in bamboo massage is great for seasoned massage therapists or for those in school or new to the industry. Massage therapy training classes in bamboo massage can be held just about anywhere. The bamboo sets are very lightweight and easy to carry making the massage training classes portable.
Many Asian countries treat bamboo with great reverence since it has played a significant role in feeding and housing them. It is very common for bamboo to be used in making musical and surgical instruments, furniture, eating utensils and storage baskets in addition to hundreds of other uses.
Bamboo is a highly renewable (sustainable) resource and boasts more than 1500 different species that grow naturally throughout most Asian countries in addition to South and Central America. The Chinese and Japanese have used bamboo since ancient times; however is just now becoming main-stream in the American culture.